Ari Linden
---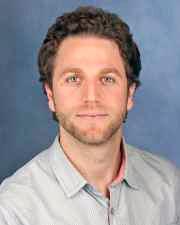 Biography
—
Modern German-Jewish thought; twentieth-century German and Austrian literature and visual culture; the Frankfurt School and Critical Theory; Hegel
Dr. Linden received his BA in History at the University of California, Berkeley, in 2005 and his PhD in German Studies from Cornell University in 2013. He began his career as a Visiting Assistant Professor at KU that fall. Since fall 2014, he has been an assistant professor, where he teaches a wide range of classes on modern German culture and language. Dr. Linden is currently completing a book manuscript entitled Karl Kraus and the Critique of Experience, which treats the twentieth-century Austrian playwright, satirist, journalist, and poet Karl Kraus as a significant, though overlooked theorist of modernity and its discontents. The book re-envisions Kraus as an interlocutor of Søren Kierkegaard, Walter Benjamin, and Theodor Adorno.
Education
—
Ph.D. in German Studies, Cornell University
M.A. in German Studies, Cornell University
B.A. in History, University of California, Berkeley, CA
Research
—
Dr. Linden has published peer-reviewed articles on Walter Benjamin, Karl Kraus, Else Lasker-Schüler, Bertolt Brecht, G.W.F. Hegel, and Leo Strauss. His research interests further include the tradition of modern German Jewish thought and culture, and his next research project will address the concept of exile in the work of major German and German Jewish writers from the mid-nineteenth to the mid-twentieth century.
Teaching
—
Dr. Linden teaches courses on German and Austrian literature and culture from 1750 to the present, German film, the literature of exile, European comic literature and film, and German language at the upper intermediate level.
Selected Publications
—
Linden, Ari. ""Teaching to Interrupt: Satire in Brecht's Arturo Ui and Chaplin's The Great Dictator"." Spec. issue of The Brecht Yearbook (University of Wisconsin, Madison) 41 (December 2017): 23-42.
Linden, Ari. "Thinking Through the Clouds: Comedy in Hegel and Strauss." The German Quarterly (USA) 90.4 (Fall 2017): 423-438.
Linden, Ari. ""'Wo das Ungesetz gesetzlich überwaltet': Karl Kraus's Reading of National Socialism" ["'Where illegality illegally triumphs': Karl Kraus's Reading of National Socialism"]." Ed. Helena Tomko. Oxford German Studies (Oxford, UK) 46.1 (19 May 2017): 75-91.
Linden, Ari. "Staging German-Jewish Exile in Else Lasker-Schüler's IchundIch." Leo Baeck Institute Yearbook (Oxford, UK: Oxford Journals) 60.1 (Dec. 2015): 16 p.
Linden, Ari. "Beyond Repetition: Karl Kraus's 'Absolute Satire'." German Studies Review 36.3 (Oct. 2013): 515-536.
Linden, Ari. "Quoting the Language of Nature in Karl Kraus's Satires." The Journal of Austrian Studies 46.1 (Spring 2013): 1-21.
Selected Presentations
—
Linden, A. . (11/30/2017). From Black Magic to Jargon: Adorno's Dialogue with Kraus. Citing Violence, Inciting Critique: Karl Kraus, 1933. University of Antwerp (Belgium)
Linden, A. . (02/28/2017). Thinking through the Remainder: Negative Dialektik as a Work of German Jewish Thought. 5th Biennial Meeting of the German Jewish Studies Workshop. Notre Dame University
Linden, A. . (10/31/2016). Authorship and Authority in Arendt, Kierkegaard, and Benjamin. 40th Annual German Studies Association Conference. San Diego, CA
Awards & Honors
—
Hall Center Humanities Research Fellowship
Hall Center for the Humanities
2017